The Snooty TavernA little bit about us and what we offer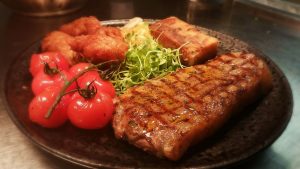 "Our guests appreciate dining with us because of our cooking, rather than the amount of food we serve. Our focus is all about making food taste as good as it possibly can."

The Owner and Head Chef, Nicholas Marriott, is a Michelin star-trained chef who is passionate about bringing vibrant and refreshingly new ideas to a traditional and historic country pub. Nick has a strong Asian interest, fusing his selection of ingredients, not often seen in many restaurants, to both excite visually, and to be packed full of flavour.

"We aim to create a relaxed atmosphere, offering excellent food, with varied menus that cater for all."

We are ideally located near the towns of St Neots, Kimbolton, and only a mile or so from Grafham Water.
See Our Menu
Special ServiceWhat Special services we are offering now

Come and spend your birthday with us. We can cater for most group sizes and can provide a cake if required

Spend your special day with us, we can host your reception party providing food and drinks for your guests